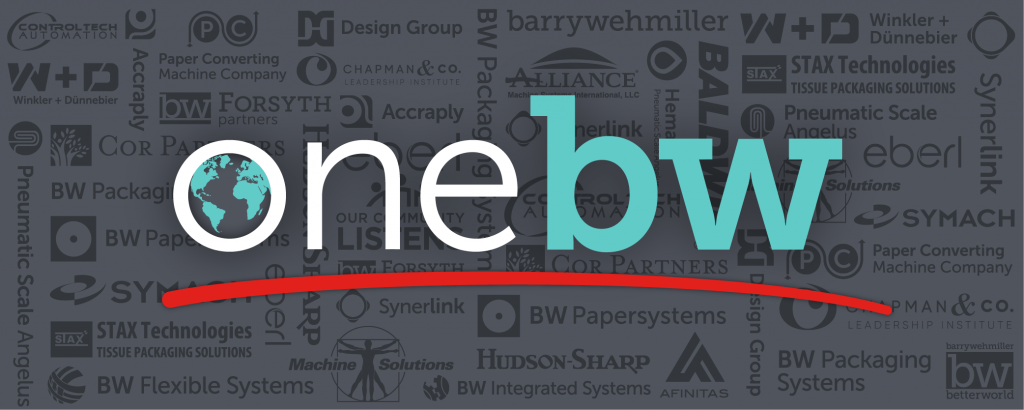 Amplifying the Positive!
Let's shine a light on all the goodness around Barry-Wehmiller! Each week, you'll see stories of BW companies, teams or individuals stepping in to make a difference during these stressful and uncertain times, and inspiration to keep you motivated.
If you have a story to share, send it to mary.rudder@barry-wehmiller.com.
---
Bob Chapman gives his thirteenth company update to Barry-Wehmiller team members during the COVID-19 pandemic with Kyle Chapman to share the…
Bob Chapman gives his twelfth company update to Barry-Wehmiller team members during the COVID-19 pandemic with encouraging messages from Kyle Chapman,…
Bob Chapman gives his eleventh company update to Barry-Wehmiller team members during the COVID-19 pandemic with encouraging messages from many team…
Bob Chapman gives his tenth company update with an encouraging message from Michael Monarchi, NEW Chief Financial Officer of Barry-Wehmiller. In…
BW CEO Bob Chapman's ninth company update to Barry-Wehmiller team members also features Kyle Chapman, interim BW Chief Financial Officer, with…
Internationally bestselling author and speaker Simon Sinek launched a new podcast at the beginning of the COVID-19 crisis and invited Bob Chapman to be a…
Bob Chapman gives his eighth company update to Barry-Wehmiller team members during the COVID-19 pandemic with an encouraging message from Ryan…
With all the turmoil in the world right now, there's no time like the present to brush up on your listening skills with this week's blog post featuring BWU professor…
Bob Chapman gives his seventh company update to Barry-Wehmiller team members during the COVID-19 pandemic with an encouraging message from Sergio…
Bob Chapman gives his sixth company update to Barry-Wehmiller team members during the COVID-19 pandemic with an encouraging message from Justin…
Need a little inspiration? Then sit back and listen to Jay Gopinath, Director of theIndia Region for Design Group, who shares his thoughts…
Here is another update from me about how we are responding to the COVID-19 pandemic. The video also includes a message…
What pairs well with coffee? Recognition, that's what! Recognition pairs well with anything. In this latest episode of Coffee Conversations, BWU's new whimsical…
Watch this COVID-19 update video from CEO Bob Chapman and Frank Eichhorn, President of Winkler+Dünnebier, which provides solutions for the mail and postal…
Watch this COVID-19 update video from CEO Bob Chapman and President of PCMC Stan Blakney to learn more about how PCMC is responding…
Watch this COVID-19 update video from CEO Bob Chapman and BW Papersystems Managing Director-Asia Eddie Mun. Eddie Mun's positive outlook and encouraging…
What do coffee and communication have in common? They're the perfect combination in "Coffee Conversations", a new whimsical and fun video…
---
BW Learning Center Resources
NEW for Leaders! Search and register for the BWU Global Roundtable series – short content sessions paired with dialogue on best practices from our…
Listen Like a Leader Connection Sessions Schedule: Get Out of the Box on 22-Oct, 8-DecMaster Your Message on 10-NovBuilding a Better Bucket on 19-Nov, 12-JanExercise Your Power…
As BW's normal work routine has been disrupted over the past couple of months, the organization has taken advantage of the…
New L3 eLearning Modules Now Available in English!These self-guided, 15-20 minute introductory modules explain "Lean" thinking at Barry-Wehmiler. Check out the L3…
New Safety eLearning Modules available in multiple languages! To complement your appropriate local training in specific safety skills, new modules are…
For Leaders, search and register for an upcoming Leading Remotely webinar session. MORE SESSIONS RECENTLY ADDED DUE TO HIGH DEMAND!For Team Members and Leaders,…
Enhance your physical and mental wellbeing through these beginner yoga sessions available in the Physical Wellbeing: Intro to Yoga playlist.Manage stress…
---
"What lies behind us and what lies before us are tiny matters compared to what lies within us."– Ralph Waldo Emerson
"We don't talk about winning. We never talk about winning. We talk about playing our best for each other. If every…
"If you hire people just because they can do a job, they'll work for your money. But if you hire people…
"What you do makes a difference, and you have to decide what kind of difference you want to make."― Jane Goodall
"We look forward to the timeWhen the Power of LoveWill replace the Love of Power.Then will our world knowThe blessings of…
"Develop an 'attitude of gratitude'. Say thank you to everyone you meet for everything they do for you."– Brian Tracy
"No one is born hating another person because of the color of his skin, or his background, or his religion. People…
"I don't like that man. I must get to know him better"– Abraham Lincoln
"Compassion is the sometimes fatal capacity for feeling what it is like to live inside somebody else's skin. It's the knowledge…
"If you don't like something, change it. If you can't changeit, change the way you think about it."– Mary Engelbreit
"People fail to get along because they fear each other; they fear each other because they don't know each other; they…
"A pessimist sees the difficulty in every opportunity, an optimist sees the opportunity in every difficulty."– Sir Winston Churchill
"You never know how strong you are until being strong is the only choice you have."– Bob Marley
"Coming together is a beginning. Keeping together is progress. Working together is success."– Henry Ford
"When I was a boy and I would see scary things in the news, my mother would say to me, 'Look…
"Nothing in life is to be feared, it is only to be understood. Now is the time to understand more, so…
"In times of great stress or adversity, it's always best to keep busy, to plow your anger and your energy into…
"I, not events, have the power to make me happy or unhappy today. I can choose which it shall be. Yesterday…
"This pandemic is turning out to be a grim but vital reminder that we human beings are here on this planet…
"Death is not the greatest loss in life. The greatest loss is what dies within us while we live."– Norman Cousins
"What lies behind us and what lies before us are tiny matters compared to what lies within us."– Henry S. Haskins
"Ggwwrghh, rraarrwhhgwwr, aaararrgwwwh, Urrharhh"– Chewbacca
"I believe that through compassion there is beautyThrough love, there is artI believe that we are only free through being kindThat…
"Hope is important because it can make the present moment less difficult to bear. If we believe that tomorrow will be…
"No matter what happens in life, be good to people. Being good to people is a wonderful legacy to leave behind."…
"Sometimes the smallest step in the right direction ends up being the biggest step of your life. Tip toe if you…
"Doing the best at this moment puts you in the best place for the next moment."– Oprah Winfrey
"APRIL is the cruelest month, breedingLilacs out of the dead land, mixingMemory and desire, stirringDull roots with spring rain."– T. S.…
"Optimism is the faith that leads to achievement. Nothing can be done without hope and confidence."– Helen Keller
"I don't know what tomorrow holds but I know who holds tomorrow." – Author Unknown
"Courage is not the absence of fear, but rather the assessment that something else is more important than fear." – Franklin…
"There is no royal road to anything. One thing at a time, all things in succession. That which grows fast, withers…
"I can't change the direction of the wind, but I can adjust my sails to always reach my destination."– Jimmy Dean…